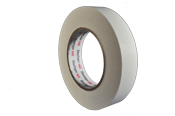 You've got to be in a pretty big city in order to have retail options that deal with the kind of things sound techs need. You're not going to find a pro sound store on every corner.
Even if you have a high end music store in your community, one that sells sound equipment for working musicians, it may well not have something as simple as rolls of console labeling tape. A lot of music store employees, usually working musicians, not techs, may not even know what it is.
Your town is much more likely to have a store that deals in art supplies or craft supplies. That is where you should start your search.
Console tape is widely known as "artist tape", and it is used in lots of labeling and other photography management tasks. It uses the same "no residue" repositionable adhesive that is prized for its clean removal.
Don't bother asking any of the clerks if they stock console tape. They'll have no idea what you are talking about.
TheTapeworks.com
Voice 866-386-8335
Fax 800-327-6651
Email sales@harrisonbros.com
Harrison Bros. Inc.
47 North Chatham Pkwy.
Chapel Hill, NC 27517